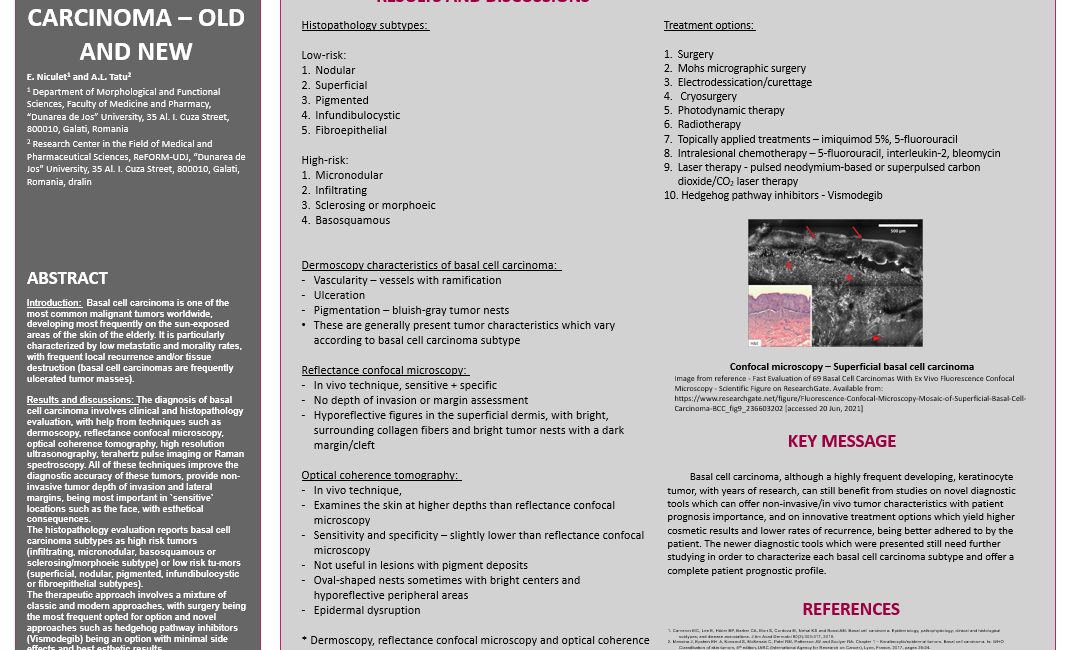 Introduction: Basal cell carcinoma is one of the most common malignant tumors worldwide, developing most frequently on the sun-exposed areas of the skin of the elderly. It is particularly characterized by low metastatic and morality rates, with frequent local recurrence and/or tissue destruction (basal cell carcinomas are frequently ulcerated tumor masses).
Results and discussions: The diagnosis of basal cell carcinoma involves clinical and histopathology evaluation, with help from techniques such as dermoscopy, reflectance confocal microscopy, optical coherence tomography, high resolution ultrasonography, terahertz pulse imaging or Raman spectroscopy. All of these techniques improve the diagnostic accuracy of these tumors, provide non-invasive tumor depth of invasion and lateral margins, being most important in "sensitive` locations such as the face, with esthetical consequences.
The histopathology evaluation reports basal cell carcinoma subtypes as high risk tumors (infiltrating, micronodular, basosquamous or sclerosing/morphoeic subtype) or low risk tumors (superficial, nodular, pigmented, infundibulocystic or fibroepithelial subtypes).
The therapeutic approach involves a mixture of classic and modern approaches, with surgery being the most frequent opted for option and novel approaches such as hedgehog pathway inhibitors (Vismodegib) being an option with minimal side effects and best esthetic results.
Conclusions: Basal cell carcinoma, although a frequent developing tumor with years of research on the said topic, can still benefit from research on novel diagnostic tools which can offer non-invasive tumor characteristics with patient prognosis importance, and on innovative treatment options which yield higher cosmetic results and lower rates of recurrence.
Keywords: basal cell carcinoma, subtypes, dermoscopy, optical coherence tomography, reflectance confocal microscopy, Raman spectroscopy, terahertz pulse imaging
References:
[1] Cameron M.C. et al. (2019) J Am Acad Dermatol 80(2):303-317.
[2] Messina J. et al. Chapter 1 – Keratinocytic/epidermal tumors. Basal cell carcinoma. In: WHO Classification of skin tumors, 4th edition, IARC, 2017, 26-24.
[3] Kim D.P. et al. (2019) Hematol Oncol Clin North Am 33(1):13-24.
[4] Fania L. et al: (2020) Biomedicines 8(11):449.
[5] Lupu M. et al. (2019) Oncol Lett 17: 4112-4125.
[6] Căruntu C. et al. (2014) Rom J Morphol Embryol 55(4): 1437-4.
[7] Holmes J. et al (2018) Br J Dermatol 178:1102-1110.
Biography: EN is a PhD candidate at "Dunarea de Jos" University. She is a teaching assistant in the Department of Morphological and Functional Sciences of the Faculty of Medicine and Pharmacy of Galati, Romania. ALT is the head of the Dermatology Department at the Faculty of Medicine and Pharmacy of Galati, Romania.